Raise the funds you need on a platform that's built to scale
Create an online and on-the-go presence for your next online auction, and increase your year-round support.
Custom branded auction site
Online auctions with a custom branded look, designed to reflect your organization's unique identity and the theme of your event.
Content to fit your fundraiser
Manage your own content to develop auction-specific messaging throughout your site and keep your audience informed.
A bidding style for every auction
Utilize traditional Standard Bidding, ease your experience with Auto Bidding, and spice things up with Bid Wars.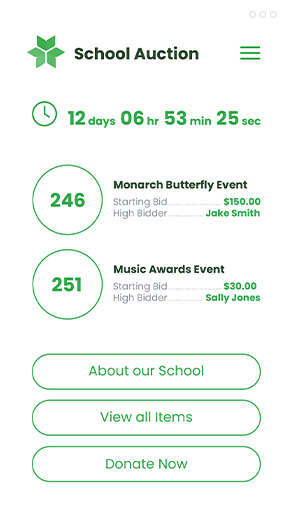 Unlimited item & image uploads
No more worrying about fitting into limits. Add as many auction item listings and images as you need.
Head-turning auction items
Elevate your fundraiser by including one-of-a-kind travel packages available from our partner, AmFund.
Access from any smart-device
Access your online auction site anywhere with any smart-device and watch it adapt to every screen size.
Raise extra funds by accepting customizable pledges through your online auction site, featuring photos, videos, and designated donation levels.
Streamline online auction item acquisition with an easy-to-use donation form integrated right into your auction site.
Advertising space for supporters
Display linked sponsor and donor logos throughout your online auction site to give your supporters some extra recognition during your online auction.
Real-time goal thermometer
Track your fundraising progress on the home page of your auction site and rally your supporters to help you meet your goal.
Capitalize on the power of social media by sharing your online auction items with integrated social sharing and event tracking.
Customizable text messaging
Keep your audience engaged throughout your online auction by sending custom text messages to your registered bidders.
Pricing that fits every fundraising budget
Our simple package and pricing options give you the flexibility to choose a solution that best fits your organizations needs.

"*" indicates required fields
Ready to tour our platform?
Discover the power of fundraising with Auction Frogs today
Our event was a huge success and we raised well above our goal! We really love the Online Auction process. Thank you for all of your help!
Wonderful company and staff—I truly enjoy working with them. I would recommend them to anyone looking for their expertise.
We love Auction Frogs as our fundraising partner! Each event we have used them has been seamless and perfect, allowing us to raise the most money possible.
I don't know if we could have pulled off our events and had the success we had without Auction Frogs. They will continue to be a vital part of our fundraising future.